A boy who had no home.
It all started one morning in the early 1950's when Mary McHenry was reading the mail to her husband, the Rev. Richard McHenry, pastor of the Calvary Bible Church in Dugspur, Virginia.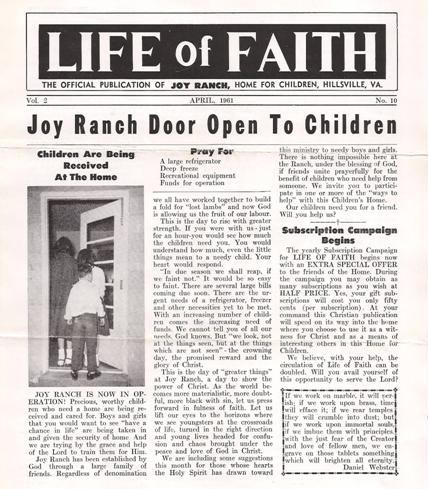 "Listen to this," she exclaimed with letter in hand, "This lady says: 'There's a boy in our neighborhood who has no home.  He stays with one and then another of the families in this area, but no one can keep him permanently.  I must tell you that he is undisciplined and hard to manage.  Would you be willing to take him for the older boys' week at your Bible camp?'"
"Of course we will!" her husband responded, "Why not?"
Mary McHenry, reminiscing in her book  Feed My Lambs, the Joy Ranch Story, vividly remembered that the young boy loved every minute of camp, was one of the first to respond to the invitation to come to Christ, "and when the week ended he had become one of the most cooperative boys in the group."
During the week of camp, God planted the seed.
But the question of what would become of the boy stirred the hearts of Mary and Richard McHenry.  "At the close of the week we were among the most miserable.  What would happen now to our young friend?  Where would he go?  Would anyone give him a home? And in that soil of misery God planted a seed that would germinate eight years later and grow into Joy Ranch, a home for boys and girls who needed care."
The McHenry's began to share their vision with their church congregation, folks in the community, and with listeners to their broadcast "This Is Life" heard twice weekly over WPAQ, am 740 in Mt. Airy, NC.  Joy Ranch was incorporated May 2, 1957, and opened the doors of its first cottage in 1961.  In between those years, as word got out about the new ministry, the McHenry's received another touching letter, this time in a child's handwriting:
Dear Sirs:
            I would like to come and stay at joy ranch.  i have no place to stay and that is why i would come to joy ranch.  if i can come pleas write and I have 2 brother besides me.

But where would this seed grow?
"Investigation revealed that the letter was written out of deep need," Mary McHenry recalls, "and an even greater urgency came upon us."  Dr. Robert Waddell, a "beloved physician in Galax" and "a treasure of gold during this time" suggested that the McHenry's look for land around Woodlawn, a small town between Hillsville and Galax, telling them "It's a good community- not as rough as some… and I will doctor the children and advise you when you need my help."
Though they didn't have any money at the time, the McHenry's agreed to purchase 18 acres for $6,000.00 from Palmer F. Turner, a kind elderly man who supported Joy Ranch until his death.   "The first donation was $3.  Others followed, mostly one dollar bills from poor people… and then some fives and tens and only very occasionally a $100 gift.  But before long the land was fully paid for."
Since that small but thrilling beginning, Joy Ranch, now with 5 cottages on 62 acres, has helped provide a caring home for over 5,000 children, and is still funded by contributions as small as $1 from individuals, to much larger donations from supporting churches, individuals, estates, and organizations.  Richard and Mary McHenry lovingly and faithfully directed Joy Ranch until their retirement in 1978.
Original minutes from the first Board meeting.