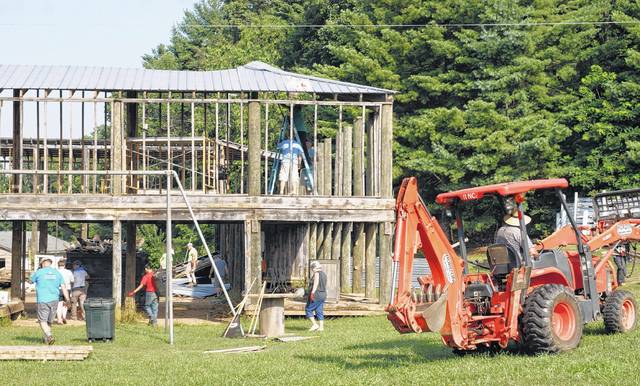 Chesterfield Baptist Church Makes Improvements
Story from http://www.thecarrollnews.com/news/3370/improvements-made-at-joy-ranch
A six page list of projects at Joy Ranch accomplished last week by 120 Chesterfield Baptist Church Association volunteers is merely the visible part of the iceberg… a case of "the little churches that could."
Association Mission Director Dan Austin said churches involved included Wolf Pond Baptist, Cedar Creek Baptist, Pine Grove Baptist, Cheraw Baptist, Sand Hills Cowboy Church, South Point Fellowship, Wallace Baptist Church, Lee Park Baptist, Highland Heights Baptist (from Kentucky), Mt. Moriah Baptist, and Lower Macedonia Baptist Church.
Austin explained it's not just about the numbers of volunteers increasing. It's small churches doing big things. Mission Director Randy Shaw said the group isn't looking at the "long game" or the number of projects but are in it to win it.
"The whole purpose of this is to teach our people biblical principles of servanthood. It's truly going in and finding ways you can go in, encourage and meet needs. In a me generation servanthood is a rare thing. This is why we do it as a family mission thing," said Austin. "We want our older generations to teach our younger ones hopefully on biblical principles. It's not about the jobs. Don't get me wrong. We want to have plenty of work to do. We want our children to be involved in ministry and not just sitting and watching mom and dad work or hanging out and playing while others work."
Projects included roofing, pressure washing almost everything on the property, dissassembling the "Ark" for repurposing as a technical training facility, flooring a bathroom in the girls cottage, remodeling bathrooms, grading for RV parking for volunteers who travel in RVs, a new kitchen door and tile, repairing kitchen subflooring and adding handicapped access.
The volunteers also sang and helped with crafts daily in two local nursing homes during their week long stay. (Everyone arrived last Saturday with some staying until Saturday morning to be sure the projects were finished.) Joy Ranch children ate, worked and fellowshipped with volunteers.
"What God is doing here with Joy Ranch is the story. God leading a group here to partner with what he is trying to do in this place is the story. The number of people coming here is not near as big as the children being helped. Getting a family," said Austin.
Mission Director Randy Shaw said the group has served in Kentucky, West Virginia, at Hillcrest Baptist Church in Galax, and in Tennessee. It took a bit of divine intervention in the form of bad weather to point them to Carroll County.
"Originally we decided to go down to Florida to Pensacola. We got a group of 18 together and I thought this was going to be a pretty good group. We got everything laid out and were going to do a roof job and I guess the Lord didn't think it was big enough so he sent a hurricane and made it bigger. When we did get it together it was a bigger roof. That's the way we looked at it," said Shaw. "The next year when we went down there we had another hurricane. Same time, same year. So I thought there has to be a reason. We're going to go north till we run out of gas before it gets to us. We've been going this way every since."
Shaw said he has a good mix of people including electrians, plumbers and carpenters. He said their basic guideline is to "fix it right or we won't do it."
"The numbers keep going up. Every year I have to put a stopping point or if I didn't it would go on and on. We have to limit. To me it gets overwhelming. It's not the work but making sure I have enough to keep them working," Shaw said. "My job when I get home is to share what we are doing and what they can do. My goal is to reach the small churches. They think they can't really do anything but they can. If you can hand out water, we need you."
He said initially it was looking bad this year with the loss of some 30 volunteers (the kitchen staff). He said when asked what he was going to do he told them it wasn't his problem. It was the Lord's.
"Another church who hadn't come before sent more than 30 people and I got a new set of cooks out of it so it worked out. When they (Wolf Pond Baptist) called they said they had 38 people coming, we don't want to stress you. I said let me stress you. We don't have cooks and they said don't worry about that," said Shaw.
Joy Ranch Executive Director Susan Huxster said the very character of the group is finish one project and look to going the extra mile.
"We are so blessed to have the Chesterfield Baptist Association with us. The amount of love, skill and dedication to do the work of the Lord has provided for them is unbelievable. We are greatly indebted to them," said Joy Ranch Director of Development Courtenay Houston.
Chesterfield Baptist Church Association volunteers work to disassemble and stack a building at Joy Ranch nicknamed the "Ark." Salvaged materials have been tentatively earmarked for an industrial arts building project to be named in honor of the late Ruby Handy.
Volunteer "Tile" John Witherspoon mixes a batch of adhesive as he works on a bathroom renovation at Joy Ranch last week. One hundred and twenty volunteers from the Chesterfield Baptist Church Association worked on a variety of projects at the facility.
Chesterfield Baptist Church Association volunteers Evelyn Talbert of Cedar Creek Church and Carol Holmes of First Baptist Church in Highland Heights, Kentucky (in the background) sort reclaimed wood as a structure is torn down at Joy Ranch.
Pine Grove Baptist Church Pastor Hal Walter paints trim on a Joy Ranch cottage. Chesterfield Baptist Church Association Mission Director Dan Austin said their improvement efforts last week at Joy Ranch are not about the number of volunteers but small churches doing big things.
Hal Walter of Pine Grove Church in Chesterfield, South Carolina gets to work on laying new flooring at Joy Ranch last week. A large group of volunteers tackled a six-page list of projects ranging from roofing to renovations at the facility. Association Mission Director Dan Austin said the number of volunteers is not nearly as big a story as the number children being helped by Joy Ranch.