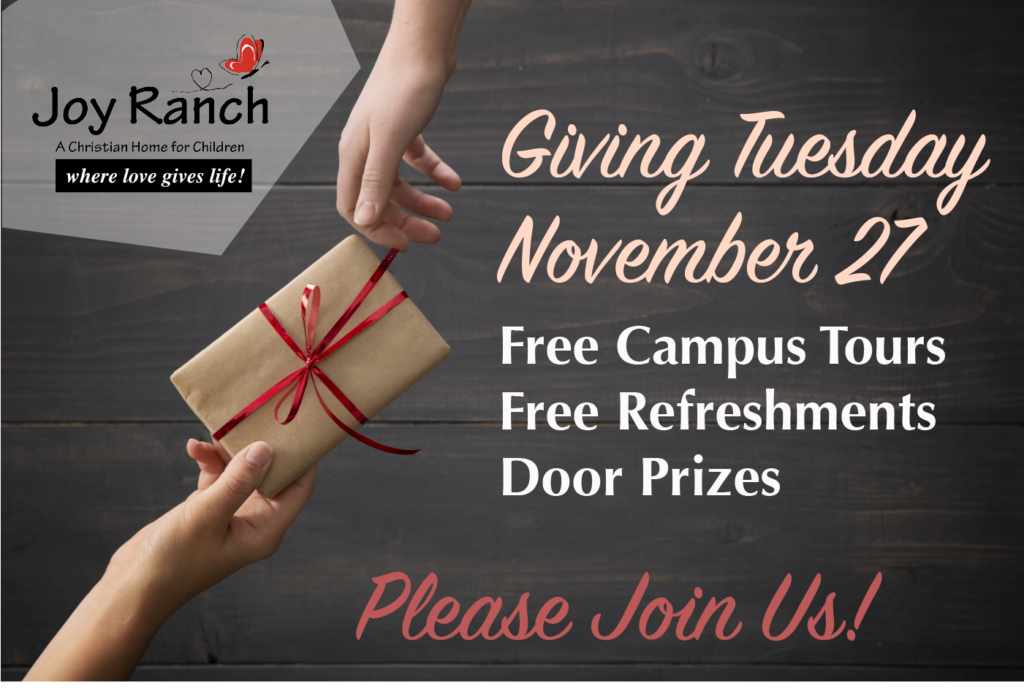 Giving Tuesday – Free Tours, Refreshments & Door Prizes!
This #GivingTuesday, Joy Ranch (A Christian Home for Children) in Woodlawn will celebrate giving by free tours of the campus to the community. During your tour, you will see how Joy Ranch is making a positive difference in the lives of kids in need. Enjoy free cocoa and door prizes as well! Tours will be given from 9 am until 3 pm. Please email us at media@joyranch.org or simply give us a call at 276-236-5578 to let us know what time you plan to come by. 
Those who are interested in joining Joy Ranch's #GivingTuesday initiative can visit http://joyranch.org/giving-tuesday . 
#GivingTuesday is a global day of giving that harnesses the collective power of individuals, communities and organizations to encourage philanthropy and to celebrate generosity worldwide. Following Thanksgiving and the widely recognized shopping events Black Friday and Cyber Monday, this year's #GivingTuesday will take place on November 27th and will kick off the giving season by inspiring people to collaborate and give back.
Since opening its doors in 1961 under the direction of the Rev. Richard and Mary McHenry, Joy Ranch, has served over 5,500 children and their families in crisis. The mission is to provide a welcoming, safe, caring, and Christ-centered environment to meet the spiritual, physical, emotional, and social needs of children and their families in crisis.
For more details about the #GivingTuesday movement, visit the #GivingTuesday website (www.givingtuesday.org), Facebook page (https://www.facebook.com/GivingTuesday) or follow @GivingTues and the #GivingTuesday hashtag on Twitter.