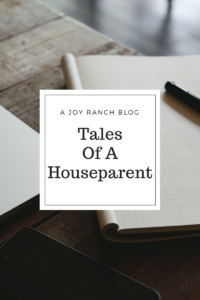 Last week Michelle wrote about what a house parent is – and is not.
We both agree that an important piece of understanding that is having a better sense of the population we work with.
Michelle mentioned that we are not:

Camp counselors – this isn't a summer camp. 

Drill sergeants – this is not boot camp.

Shift workers at an "institution" – this is not a job (we often refer to it as a calling in which we are employed – much like a pastor or missionary) and Joy Ranch is not an institution.

Teachers – Joy Ranch is not a school.

Glorified babysitters – we consider these kids ours while we have them and we are raising them, preparing them; not entertaining them or keeping an eye on them for a hot minute.

Foster parents – close, but not quite. (Way more paperwork and different regulations are just a couple differences which immediate spring to mind.)
But, before we get too far in to this, let's start with some particulars on our population. Have a look-see at the lists below. This information is taken from our website, under 'Admissions'.
We can accept children ages 5 to 17.
We can continue to serve these children through the age of 21.
We accept children with mild to moderate behavioral concerns.
We will not discriminate based on race, gender, religion, or financial need.
We serve families in crisis such as, grandparents that can no longer care for their grandchildren, single parents who need support, adoption families in distress, families dealing with incarceration, families working with DSS, and other families in need.
Joy Ranch is not structured to support the following:
Children with a severe mental or physical handicap
Children who have a consistent history of fire setting
Children have been charged with a sexual offense
Children who have been charged with a felony for violent crimes
Children who have been diagnosed with schizophrenia or multiple personality disorder.
Children that are actively suicidal or homicidal
Children that are considered a serious danger to others
Children that are in need of a secure facility
Joy Ranch accepts referrals from numerous sources which includes, but is not limited to, the Department of Social Services, private agencies, mental health agencies and individuals such as parents, grandparents, and legal guardians. 
As you can see, not all our kids are in foster care. Many are privately placed. And the reasons they come to stay with us – whether through foster care or private placement – are as many, and as varied, as the kiddos themselves.
Joy Ranch is not "the last stop before juvey", a place for bad kids, a camp or boarding school.
Whenever people mention to me that it must be tough working with difficult kids I tell them, "We don't work with difficult kids, we work with kids. Sometimes that's difficult."
Whenever people talk about Joy Ranch being the "last stop" before juvenile detention, my reply is: "I have a seven-year-old who has been with us for two years. Please, tell me what she did that we are her last stop before juvey."
Our kids are . . . kids.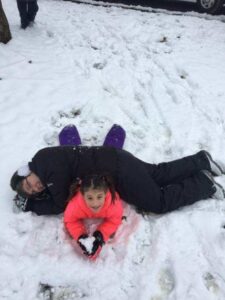 Some have been taken from their home for good reason, some come voluntarily. Some are brought by family because it is what is best for them. Some are brought because they were brought and the stories why are too many – and too incredible, to tell. Also, they aren't ours to share.  
What we have most often are children who are paying the consequences for someone else's choices.
Children with nowhere else to go. Children whose parents are unable to care for them due to crisis, incarceration or incapacitation.
So, we care for our kids like you care for your kids because our kids are your kids.
Ordinary kids who fight with each other, borrow from each other, 'trade' with one another, lose stuff, use each other's stuff without asking, tattle, share secrets and want to be loved – we have kids.
Kids dealing with grown-up sized issues that sometimes require thinking 'outside of the box'.
We are a blended family which requires a lot of compromise and working together. Yes, we have "exit" signs above our doors, a lot of paperwork, reports and inspections but mostly what we have is a group of people who, in the end, understand and love one another; and are trying their best to navigate through, and make the best of, a situation that hasn't always been the best. (Sound familiar?)
One of the ways we navigate through these situations is our Christian faith. Among the many things we do and provide is regular church attendance.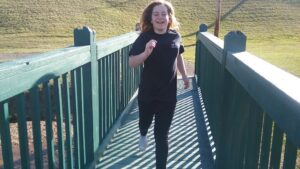 We do our best to be a Christ-like example for these children in the midst of their heartache; teaching them that no matter who they are with, where they are living or what is going on – they are never alone.
Still have questions? Let us know in the comment section and we will answer them as best we can, as soon as we can.