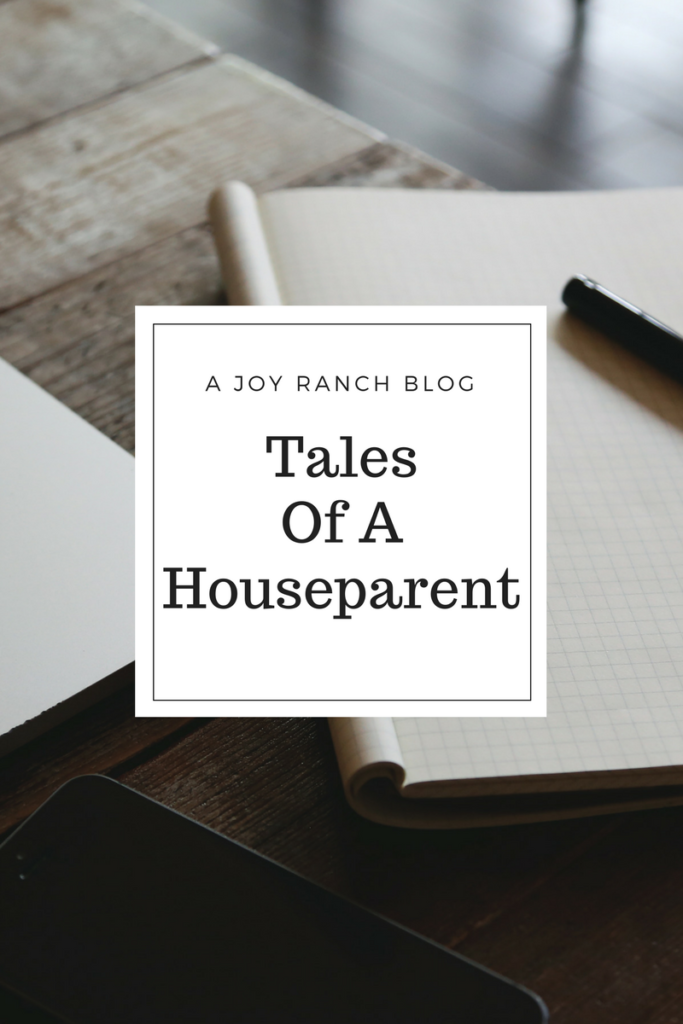 Welcome to Leebrick Cottage!
Hello, again!
If you were to stop by our campus, you would be greeted with friendly faces and people who are glad you stopped by. They would be happy to answer your questions and tell you what this place called Joy Ranch is all about. And then you'd be invited on a tour to see our campus and the lovely cottages in which we live. We'd love to have you come in person and have a chance to meet you. But, for now, let's take a virtual tour of Leebrick cottage. Come on in!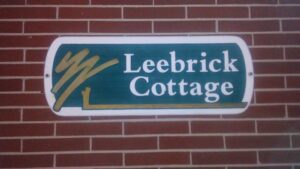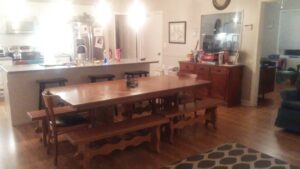 When you walk through the door, you will see our newly remodeled (gorgeous) kitchen! I love this space! Which is really great because I spend a lot of time in it! 🙂 We have a nice big table, plenty of chairs and counter space and nice lighting. The boys spend a lot of time in here, too. We eat our meals together as a "family." We play games at the table. We sit around the island and chat and eat and drink tea. (Yes, the boys drink tea – they love it, in fact! Thanks to our awesome relief house parents who introduced them to this little evening ritual!)
In the back there, you can see the office.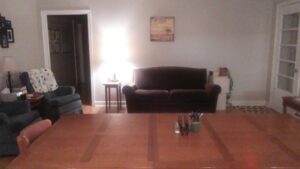 Here's another view of that big open space when you first walk in. We have a cozy little sitting area set up, which is also a favorite hang out spot. Especially when tea is involved!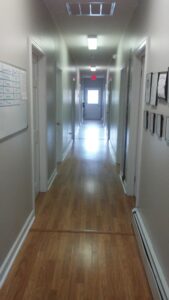 This loooong hallway leads to the laundry room, boys' rooms and bathrooms.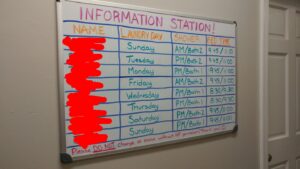 When you have this many people living in one house, you have to have some organization! Everyone has an assigned laundry day, bathroom and bedtime.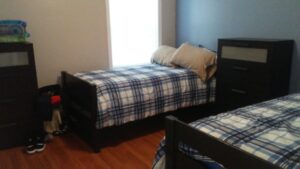 This is one of five bedrooms in our house. Yes, kids live here (and make messes here because, hey, that's part of life being a kid!) But, we also have certain expectations about how they keep their rooms. The boys rooms need to be clean and neat every day when they leave the house. They also have chores they do daily, in addition to just helping out with different projects around the house from time to time because that's part of being a family!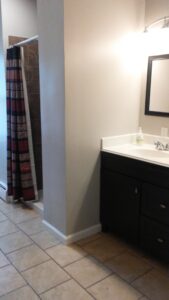 The boys have beautiful bathrooms! Double sinks, double bathroom stalls, showers…so nice!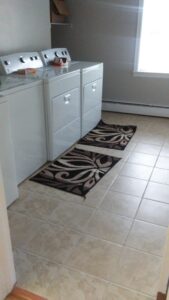 As you can imagine, this is one well-used room! With 12 people living in one house, there is ALWAYS laundry to be done! In our previous cottage, we had one washer and dryer for everyone to use. Here in Leebrick, we have 2 and it is SUCH a blessing!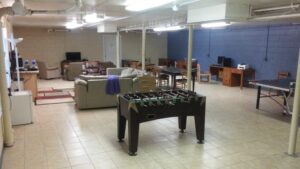 Another HUGE blessing in our cottage is this big, finished basement space! It is sectioned off into a few different areas:
A game area with ping pong table, Foosball table and a shelf with lots of board games.
A TV/movie area with some comfy couches, TV and DVD player.
A study area with desks, chairs, computer and printer.
A video game area.
This is another space we use A LOT, especially this winter with all these snow days! We also use this space for campus game nights and holiday dinners. We can host quite a few people in this space with the addition of some tables and chairs. We really enjoy having a house full of people and noise!
Well, there you have it! The pictures don't do it justice, so if you're local, call or stop by to schedule a visit. I hope you enjoyed a little peek at the beautiful place we call home! Come back soon!