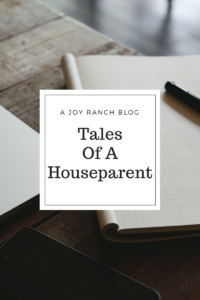 • So, you've learned a little bit about what Joy Ranch is and is not. Bethany has shared some killer tips and tricks of the "trade" we use around here. I've taken you on a tour of Leebrick cottage.
Now I suppose you'd like to know what exactly is a "house parent," right?
We get that a lot! If you ask a house parent what it is they "do" – be prepared for a long explanation! You see, there's really nothing to which you can compare it.
Let me first tell you what we often get compared to and yet, we are NOT…
Camp counselors

Drill sergeants

Shift workers at some kind of "institution"

Teachers

Glorified babysitters

Foster parents
That last one, though, is probably the closest thing we could use to describe it. Most people have a frame of reference for the term "foster parent" but not "house parent." 
And yet, as similar as we are to being a foster parent, we aren't that, either. 
In many ways, a house parent is just like any other parent. We take our kiddos to doctors' appointments and church events and practices. We correct them and re-direct them when they are not making good choices. We fuss over them when they are sick. We play games with them. We buy the groceries, cook the meals, clean up the messes.
We teach them how to do things so they can become independent.
We do homework and school projects with them. We go to their school events and talk to their teachers. We read them bedtime stories. We talk to them about their day and their friends and the hard things of life. We share in their big moments, like awards ceremonies, proms, graduations, getting their licenses, going to court, etc…We take them on vacations. We get to witness some of their "firsts" (like the first time they go to the beach, the first time they earn an A on a test, the first time they drive a car, their first job…)
We worry about them. Sometimes, we cry over them. We persevere with them. We pray with them and for them. We love them as if they were our own.
But in many ways, we are not like other parents.
We have licensing requirements and policies & procedures we have to follow. (These things mean that beds have to be a certain distance apart from each other, food has to be stored a certain way, laundry has to be done a certain way, and other things that would be atypical in your average home.) We have daily paperwork to do to make notes about the kids and their progress and goals and their days. We have medication administration policies to follow and its own set of paperwork. We have meetings to attend about the kids and a team we work with to make decisions for the kids and measure their progress.
Unlike the majority of families today, we have up to 8 kids in our home at a time. (Here at Leebrick, we sometimes have as many as 10 because my husband and I have our 2 daughters here with us…more on that another time!) Our kids range in age from 5-21, but you can sometimes have several of them that are the same age.
You can imagine that it can be pretty hectic around here, sometimes!
On top of that, because we are not their actual parents, we face another set of challenges. While we get to witness many "firsts," we also miss out on a lot of them. We face a variety of challenges in our relationships with each individual child, based on how much they want us to have a role in their lives and what that role looks like. Their relationships with their biological families and other adults in their lives influence how they respond to us and whether or not they trust us and allow us into their lives.
Sometimes, they resent us and what we represent to them. Sometimes, they will not let us into their lives. Other times, they accept and embrace the season of life they are in and they recognize that we care about them.
No matter what their reaction and relationship is like with us as their house parent, there will always be a pull to go "home," wherever that is and whatever it looks like. We deal with behaviors that stem from their life experiences prior to coming here.
Another challenge is that other people don't always understand our relationship to the child and the significance of that relationship. Since so many people don't understand what we do, they don't always realize how much these kids mean to us. When we meet teachers, go to doctors' appointments, attend church or wherever we go and we introduce our crew, we say "we are their house parents." Most people don't have a frame of
reference for that. It's sometimes assumed that this is just our "job" but in reality, it is so much more than that to each of us.
Something our Executive Director likes to say around here is that our kiddos have 2 families – their biological families and their Joy Ranch family. And it's true.
We are so much more than a "children's home." We are a home for kids who need it and a family in every sense of the word.
And even when they have left our care, they know they have a family here that will be there for them for years to come. Because that's what family does, and this Joy Ranch family is no exception, even if that family looks a little different than most.
That's just a small glimpse of what a house parent is and I hope that helps give you a clearer picture. It may help to also understand the kinds of kids that we "parent" here. Many people wonder what kinds of kids we work with and how they come to us. While we respect and love our kiddos too much to share their stories when they aren't ours to share, we would like to help you understand more about who our kids are.
Check back next week to read more about that!
In the meantime, do you have any questions about house parenting? Feel free to leave them in the comments and we're happy to answer them as best we can! •